Welcome to Chouseishin Wiki!
---
Welcome to the Chouseishin Wiki, the wiki about the Chouseishin series created by Toho Company, Ltd. that anyone can edit. Please help us by creating or editing any of our articles!
Currently editing over 259 articles.

Contact an Admin:
Digi | Digifiend | Aldo The Fox | StrangerAtaru
The Chouseishin Wiki can be accessed via:
WWW.CHOUSEISHIN.FANDOM.COM
Affiliates
See these other tokusatsu wikis as well
CHOUSEISHIN SERIES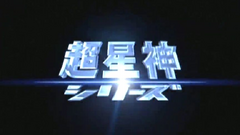 Chouseishin Series (超星神シリーズ, Chōseishin Shirīzu?) is a tokusatsu TV program produced by Toho Company, Ltd., in association with Konami, from 2003 through 2006.
CONTRIBUTE
We have a lot of content on this wiki. With your help, we can make it even better. If you have any questions please refer to the Help pages, FANDOM University or ask an Admin. Also be sure to visit our community page and read to read our local wiki policies.
Anonymous editing has been disabled for this wiki. To contribute, you must login or sign up for a free account. After that, you can get started and help out by editing typos, work on stubs, or leave feedback on talk pages. You may also consider creating wanted pages.